Over the course of the year, current MA student and past Graduate Scholarship recipient Lizzie King, and socially-engaged photographer Gwen Riley Jones have been working together on Sustaining Photography.
Sustaining Photography is a collaborative project to connect and engage students at the University with sustainable photographic processes. Lizzie and Gwen have been working together throughout the year to grow produce in the Community Growing Space and explore how these can be used to create plant-based alternatives to traditional photographic methods, which use harmful chemicals.
Now Open!
An exhibition showcasing the collaborative artwork Lizzie and Gwen have created during the project so far is now on display in the University's Community Growing Space. Alongside the artwork, you can see the produce being grown, and find recipes they have developed for the plant-based photographic methods they have used to make the work.
Feeling Inspired? You can now get involved in a series of events being held as part of the wider Sustaining Photography exhibition. The events programme includes artist talks from Edd Carr and Tamsin Green, photography workshops, and portfolio reviews for current students. You can find the full details of each event here.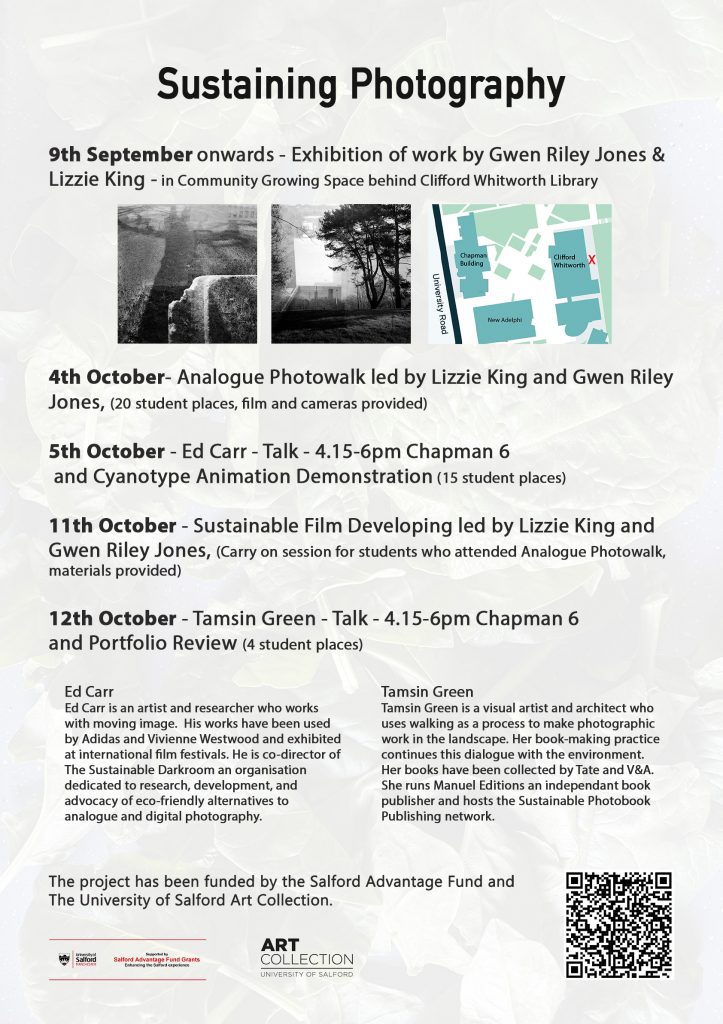 ---
The Sustaining Photography project is based at The University of Salford and has been funded by the Salford Advantage Fund and The University of Salford Art Collection.
---