We are a small but ambitious team, working with a number of industry partners and colleagues to maximise the work we do. Collaborators include: Salford Museum & Art Gallery, Castlefield Gallery, Open Eye Gallery, Quays Culture, Paradise Works, Islington Mill, Hot Bed Press, CFCCA, as well as our own School of Arts & Media, and Chancellor Jackie Kay.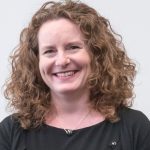 Lindsay Taylor
Art Curator
Lindsay has led the strategic development of the University Art Collection since 2013, including brokering key partnerships with art organisations and increasing the cultural profile of the University. In this role she has commissioned work by Cao Fei, Declan Clarke and Brass Art.   She works closely with colleagues in the School of Arts and Media to embed opportunities for learning, research and public engagement.
Lindsay has expertise in curating exhibitions and developing public collections of contemporary art, particularly in areas currently under represented in museum collections nationally.  She continues to contribute to national debate about contemporary collections including presenting at Collections as Conversations, Edinburgh University (2016), London Art Fair (2015), Digital Aesthetic, University of Central Lancashire, (2012), Museums Association (2010) and writing a chapter for New Collecting: Exhibiting and Audiences, edited by Prof Beryl Graham (Ashgate 2014).
Until April 2013 Lindsay worked at the Harris Museum and Art Gallery, Preston where she built up a reputation for delivering an ambitious contemporary art exhibition programme, working with artists and commissioning new works, in particular new media work.  Projects initiated included Paradise by Kutlug Ataman (2008), Simon Faithfull: Recent Findings (2010), Current: An Experiment in Collecting Digital Art (2011), Piercing Brightness by Shezad Dawood (2011)  and the Digital Aesthetic series of exhibitions and conferences in partnership with the University of Central Lancashire (2001, 2007, 2012). Lindsay started her career at the Walker Art Gallery and Tate Liverpool.
Previously she was co-Chair of Contemporary Visual Arts Manchester, jointly steering a complex cross-regional artist development project. She is currently a trustee of the Peter Scott Gallery Trust at Lancaster University and on the advisory board for the Grundy Art Gallery in Blackpool.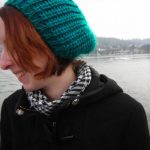 Stephanie Fletcher
Assistant Curator
Stephanie co-ordinates the University's permanent collection, supporting new commissions, exhibitions, loans, and partnership projects as well as overseeing collections care & management. Stephanie also curates the New Adelphi Exhibition Gallery, and contributes to teaching & learning at the School of Arts, Media & Creative Technology.
Alongside, Stephanie maintains a personal practice as an artist and freelance curator. She is a co-founder and Director of The Birley Artist Studios & Project Space (2014) and a member of the Preston Cultural Framework Board (2018) with Preston City Council.
Main research interests include: digital & new media, environment/ecology, and radical politics – as well as re-thinking the roles that museums, collections and artists can play.
Previous work includes the Folly, In Certain Places, Abandon Normal Devices Festival, Harris Museum & Art Gallery, and the University of Central Lancashire.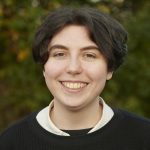 Rowan Pritchard
Team Assistant
Graduating from BA(Hons) Fine Art at the University of Salford in 2021, Rowan joined the Art Collection team as a graduate associate in November of that year, working closely with the team to develop collection care and curatorial skills.
Rowan is an emerging curator and maintains a fine art practice with an interest in archives, critical and queer theory, and the influence of online and popular culture on society.