Rediscovering Salford has been a city-wide programme of events, highlighting and celebrating Salford's green spaces. The programme was inspired by the launch of RHS Bridgewater gardens in May 2021. Over 2020-2022, Rediscovering Salford animated the city with new commissions, exhibitions, workshops and events. To close the project, we gathered together to share and celebrate the project across Salford Museum and Art Gallery, the University of Salford campus and Peel Park.
Salford Rediscovered was a celebration of music, films, tours, performances, workshops and a one-time-only appearance of Madam Mort, as created by drag artist Cheddar Gorgeous. A party for anyone and everyone in Salford to enjoy.
Anthotype workshops
During the event, I held two Anthotype workshops, based at the IGNITION Living Lab in the heart of the University of Salford Campus. I discovered this historic process when collaborating with the IGNITION project and RHS Communities exploring nature-based solutions to climate change. You can read more about my work making anthotypes with the Youth group from Action for Conservation back at Easter here.
Anthotypes are photographic prints made using plants, in these workshops we used spinach. The spinach is blended down to create a light-sensitive emulsion which is applied to paper in several layers. Once the paper is dry, photographic transparencies, or other objects can be placed on the paper. Next, secure everything in a frame and set out in the sun. No chemicals or harmful substances are used in this process, making it safe, sustainable and climate friendly.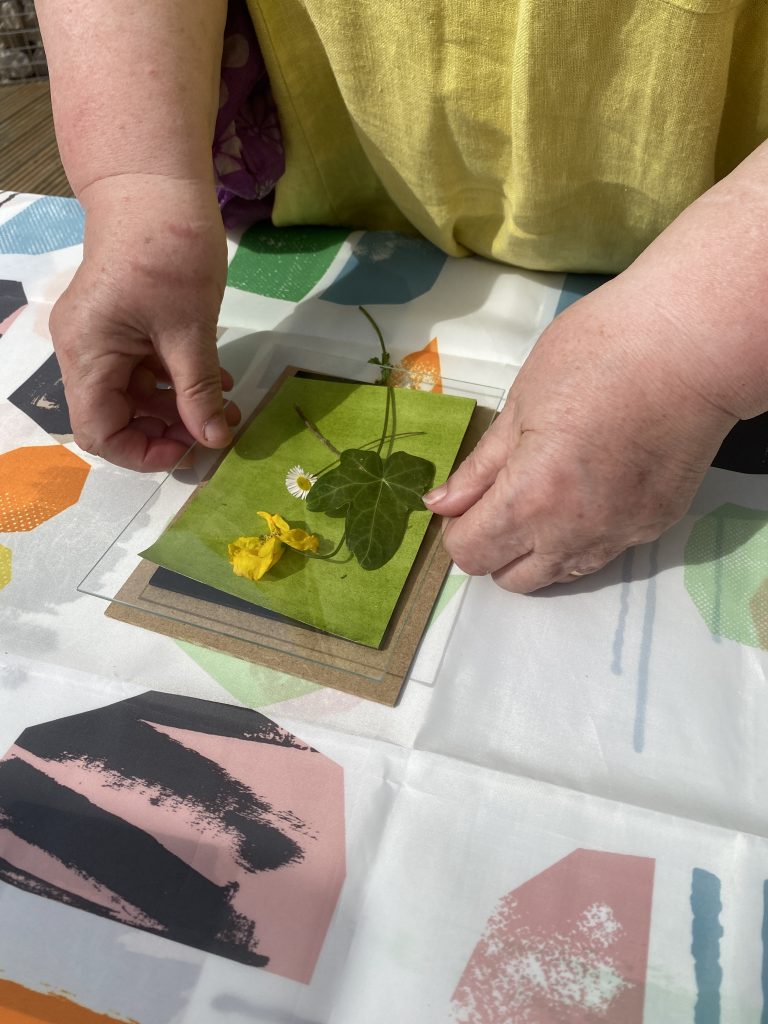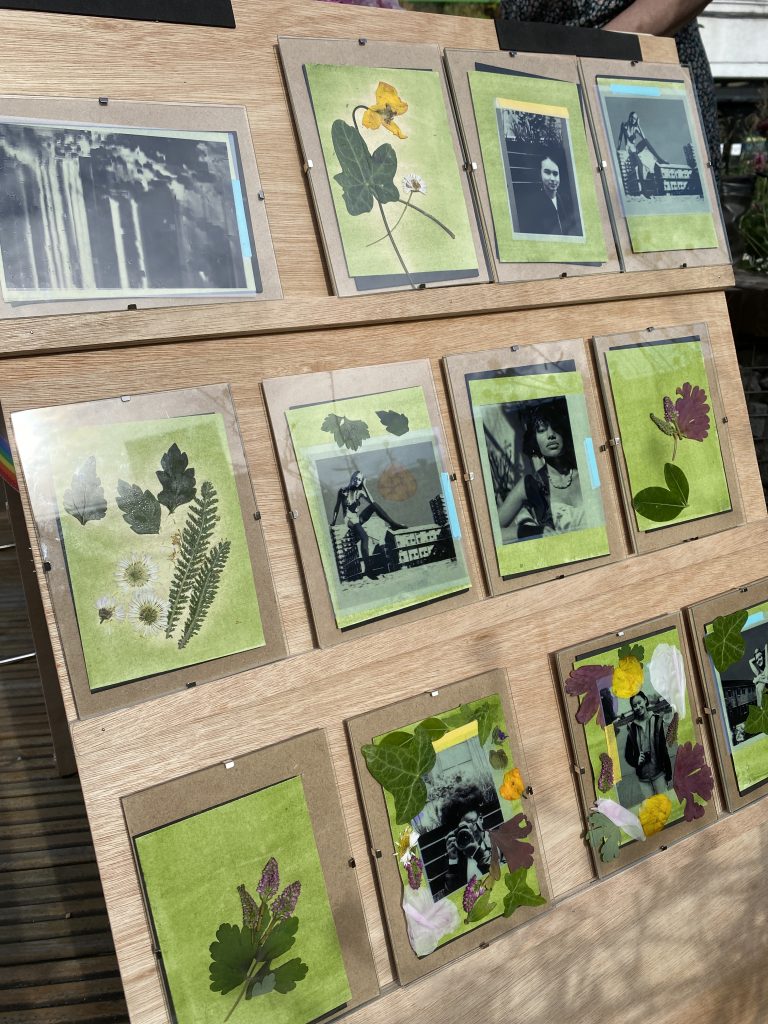 Once in the sun, the sunlight fades the areas of paper not protected. Where the photograph/object blocks the sunlight, we maintain a rich green colour. When we open the frame, we find a photographic print.
However, this print is not fixed, exposure to sunlight will make the print disappear – reminding us to continually try to reduce impact we have on the planet by choosing sustainable ways to live. It is also a reminder of the power and danger of the sun. We each have a responsibility to change our behaviours to reduce the effects of climate change.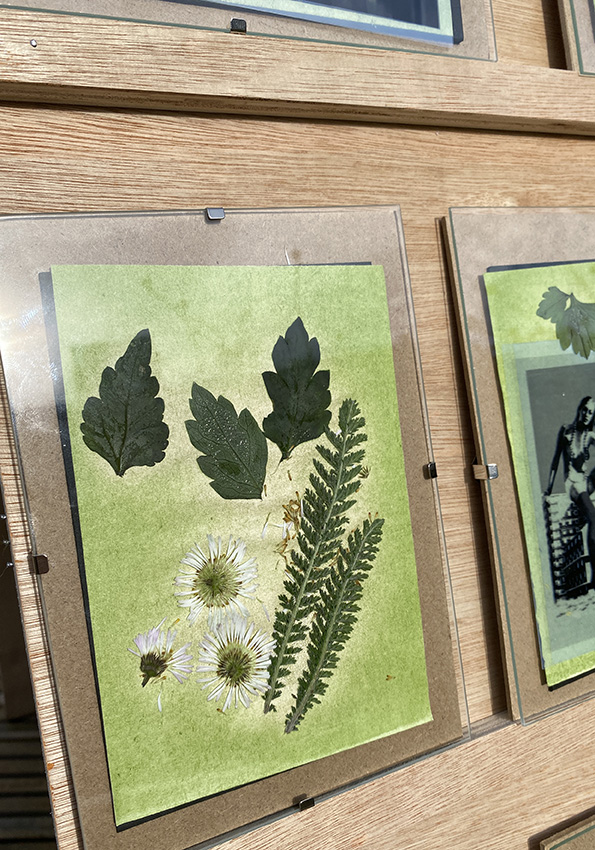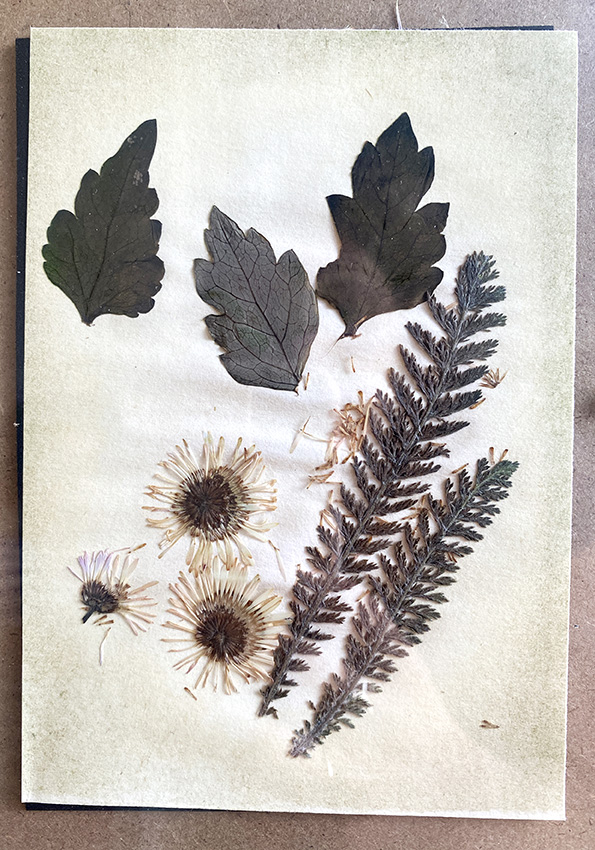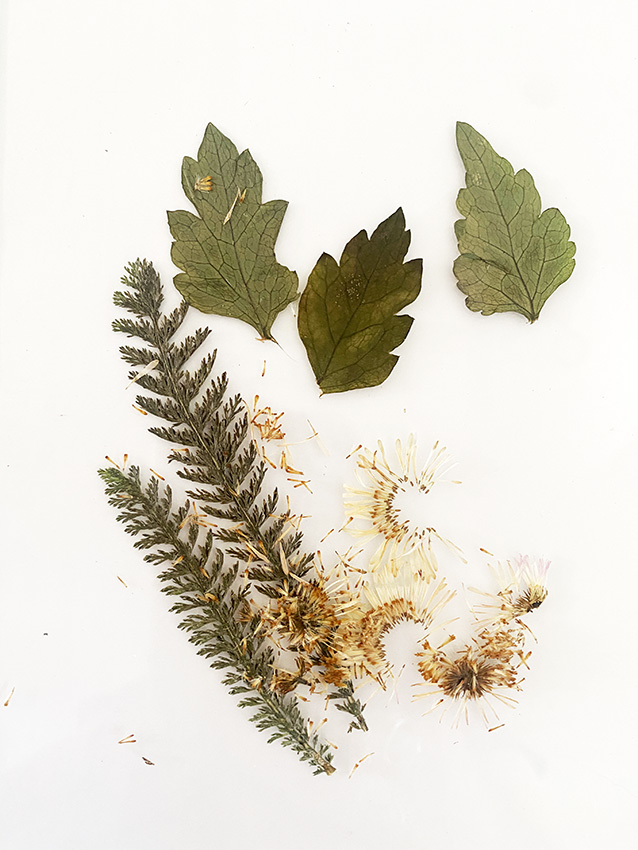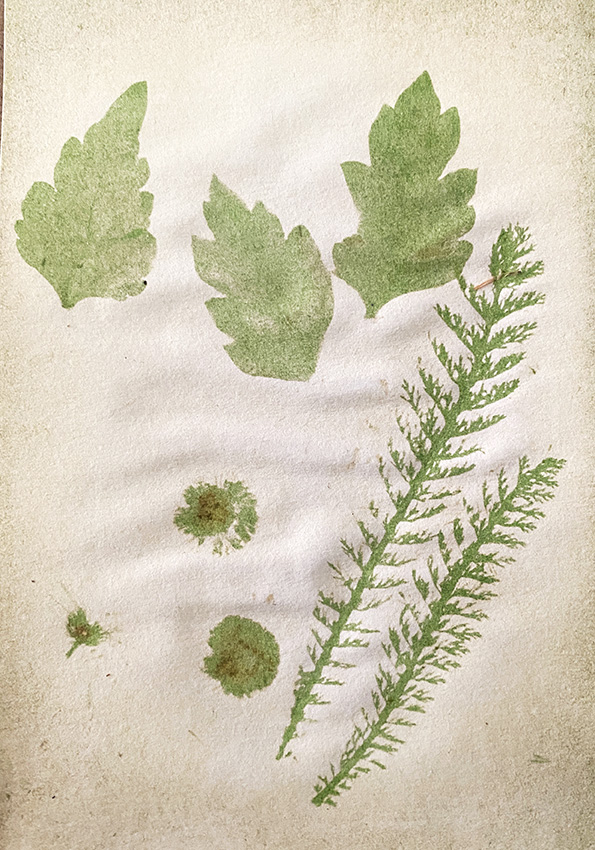 Over 50 people took part, across 2 workshops, and the groups created 30 anthotypes. We used leaves, flower petals, and images from the University of Salford Art Collection, and the Planting for the Planet exhibition showcasing the work created by the young people I worked with from Action for Conservation, currently on display at RHS Bridgewater until 27 August 2022.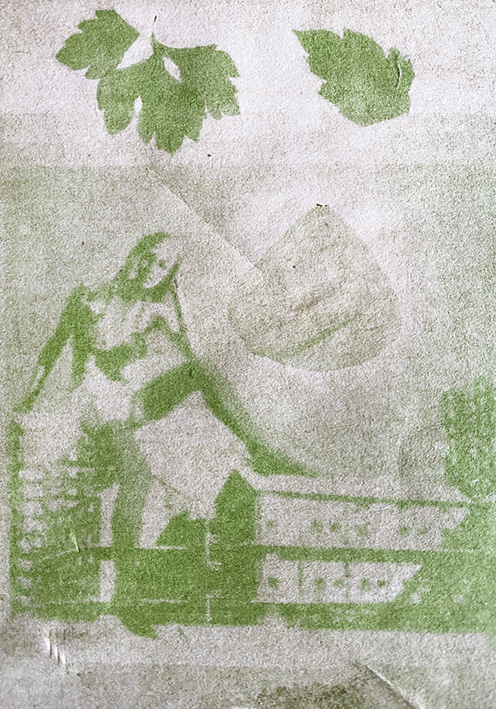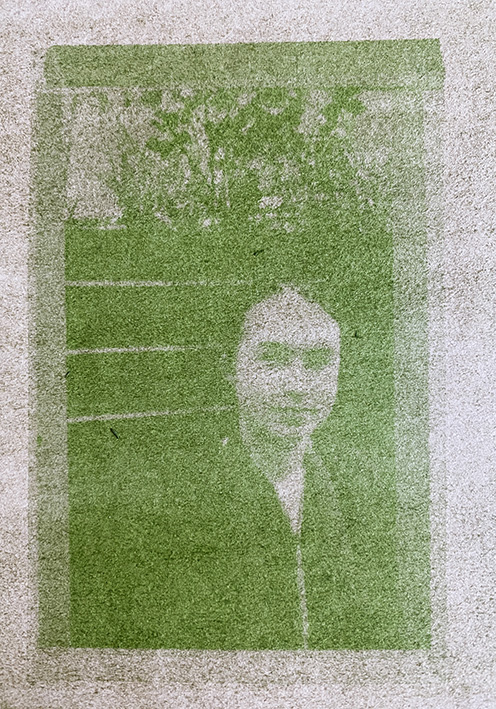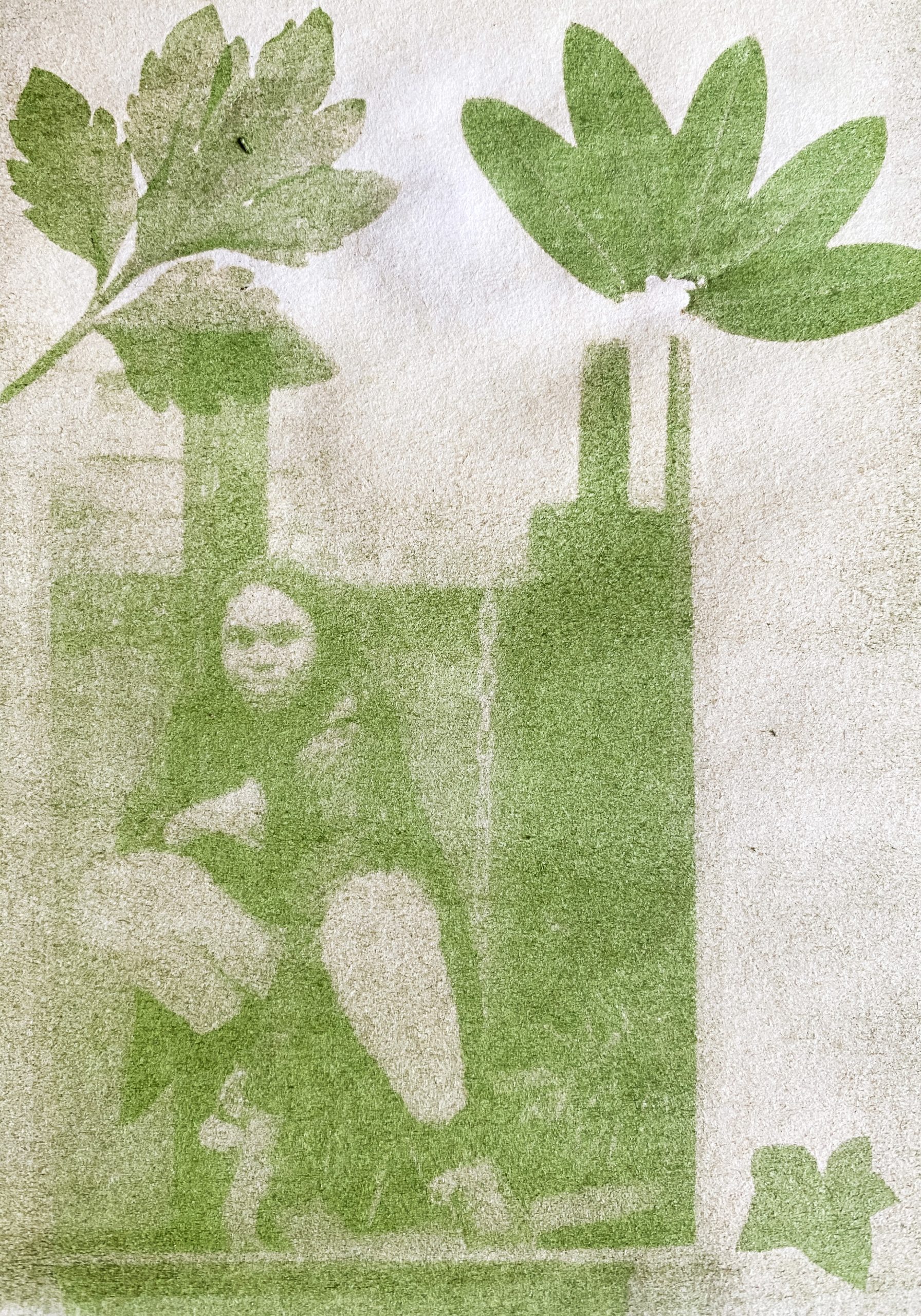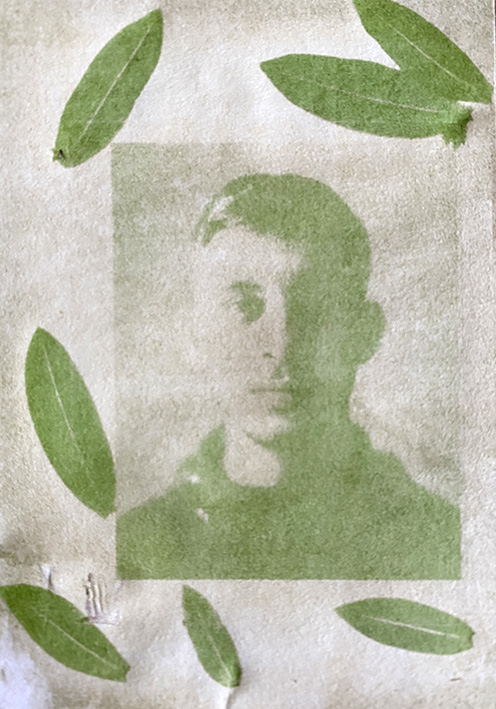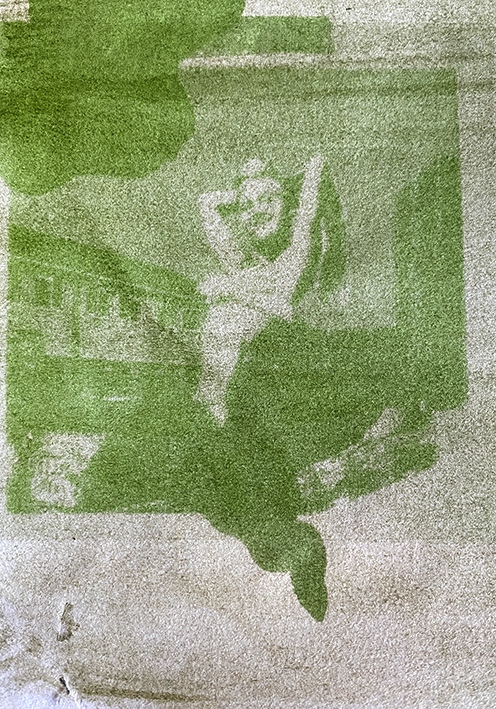 Feedback
The best thing about the event, for me, was the range of people taking part and enjoying the process – aged below 10 to over the age of 70. And the feedback from the participants:
'I love it! Definitely abandoning chemicals for now and trying this instead…'
'I really enjoyed my dabble. Have had a session with the Grandkids. A) they read how to do sun pics B) they told me what they needed paper etc C) a very enjoyable wander down the canal collecting wild stuff.
So thanks, it kept 4 of them ranging from 6-16 occupied all of one day and half of the next with a walk. Result 😍'
'Thanks for this, looks great. Interesting that some light came through the leaves.
Need to get some spinach and have a go. What sort of paper would you advise using?'
'I enjoyed it. I am definitely going to try out some stuff myself at home'
How to make anthotypes at home
So for any of you who would like to have a go at plant-based photography at home – here's how to do it:
What you'll need:
300g of spinach
A hand blender
2 x plastic jug
1 x funnel
Coffee filter papers
A sponge brush
Acid-free watercolour or cartridge paper
A clip frame
Some leaves, flowers or petals – or any other object you wish to use
Or a photographic transparency – you can create your own using digital transfer film and a home inkjet printer
Method:
Step 1: Put the spinach leaves in a large plastic just and blend with a hand blender until you create a smooth liquid
Step 2: Line the funnel with a coffee filter paper and place on the second jug. Put the spinach liquid in to the second jug and leave to drip (aprox. 30 mins)
Step 3: Take your filtered spinach liquid and coat your paper. Allow to dry between each coat – either naturally or by carefully using a hairdryer. Coat the paper 3-4 times.
Step 4: Assemble leaves, petals, photographic transparencies or any other flat objects you choose on the paper.
Step 5: Secure the paper and the objects in a clip frame and leave out in direct sunlight, ideally outside, but inside a window will also work.
Step 6: Wait. Depending on how much sun you have the images could develop in a matter of hours, or over a few days. Your image is ready when the uncovered areas of the paper – that you can see, have faded to near white.
Step 7: Open your frame and reveal your print.
Note: the print will fade if exposed to direct sunlight.
Need inspiration?
Before making your own, you can visit the Planting for the Planet exhibition at RHS Bridgewater until August 27th, where you can see the anthotypes created by the young people from Action for Conservation on display alongside a collage of photographs, 'Our City, Our Nature' and contributions from communities on taking climate action by greening Greater Manchester. The exhibition demonstrates the importance of plants and nature in creating resilient, healthy and beautiful spaces for people and the planet to coexist.
Gwen Riley Jones is Socially Engaged Photographer in Residence at the University of Salford Art Collection in partnership with Open Eye Gallery, Liverpool.
Salford Rediscovered was led by the Salford Culture and Place Partnership, the University of Salford, Solid Ground, Salford City Council, Salford Museum and Art Gallery, and RHS Garden Bridgewater. Rediscovering Salford has created fantastic engagement and original commissions with Islington Mill, Paradise Works, START Creative, The Lowry and Walk the Plank. This programme is generously supported using public funding by the National Lottery through Arts Council England, as well as contributions from all the project partners.