Back in May 2022, Socially Engaged Photographer in Residence Gwen Riley Jones wrote the following blog, reflecting on her meetings and conversations with members of Salford Youth Council. Gwen met with Salford Youth Council throughout 2022, connecting with the young people, using the Art Collection as a catalyst for conversations and activities, and working on several projects with the Youth Council. You can find more details about Gwen's work throughout her residency here.
At the culmination of her residency, Gwen's work with the Salford Youth Council has been captured in our latest exhibition on campus. 'Some Days I Feel Triangle' continues in the New Adelphi Exhibition Gallery until April 28th 2023. We are sharing this blog 'from the vaults' with you now because it is from the discussions with members of Salford Youth Council captured here that the exhibition draws its name, and many of these early ideas about how art can be a tool for expression and wellbeing underpin Gwen's work with the Youth Council.
For all the details on Some Days I Feel Triangle at the New Adelphi Exhibition Gallery, click here.
I love the chats that we have at Youth Council, the group are so intelligent, honest and open. I am always blown away by the insights they share and how much I relate to their explanations of the world. The group have respectful, insightful conversations and operate as a whole group in a way that some adult professionals unable to do successfully. I would like to figure out what their secret is, how do they do it – older adults have so much to learn from young people.
In this conversation we were talking about the purpose of art. As usual, some members of the group chatted while others noted down thoughts on the conversation roll. Here are some highlights:
Music creates an emotion and creates ART
To evoke a thought/an emotional response from someone
To explore emotions, to show pain
To show different points of view in life
To express yourself
Art can be a safe space for people to express themselves
Art is a way for someone to expand and communicate their visions physically and emotionally
To make a safe space to relax in and a place where the artist can escape
To get different ideas out into the world
To explore hypothetical scenarios (what if?)
Harley said: 'the most important reason to explore and self-express emotions through art is it's an easy way to bring ourselves to confront those emotions especially when dealing with negative emotions, like sadness and depression'. Amber agrees.
I asked, 'is it easy?'
'It is comparatively easy – you can confront them and come to terms with them, Harley said.
Alex shared 'I can never cry about stuff that's going on with me, but if I watch a movie then I can cry. It's similar to that.'
Amber, Ollie and Harley: 'I can't cry'…
…but I find when I get something down in an artistic form, whether that be words or drawings, it helps me more easily to organise my thoughts and understand what I'm feeling.
[I've only cried at one movie – INSIDE OUT (Pixar).]
Harley: 'Emotions are abstract things. It might be hard to put into words.
So it might be easier to put the emotion in to a picture or something more metaphysical…
> sounds
> colours
> shapes >>> I've genuinely said to someone I feel very triangle today'
Δ
Amber and Alex: 'YES, I always say I feel beige'
Ollie: 'How do I just understand I'm feeling very triangle today?
When you said it, I just got it.
I understand why I got beige, but not triangle.'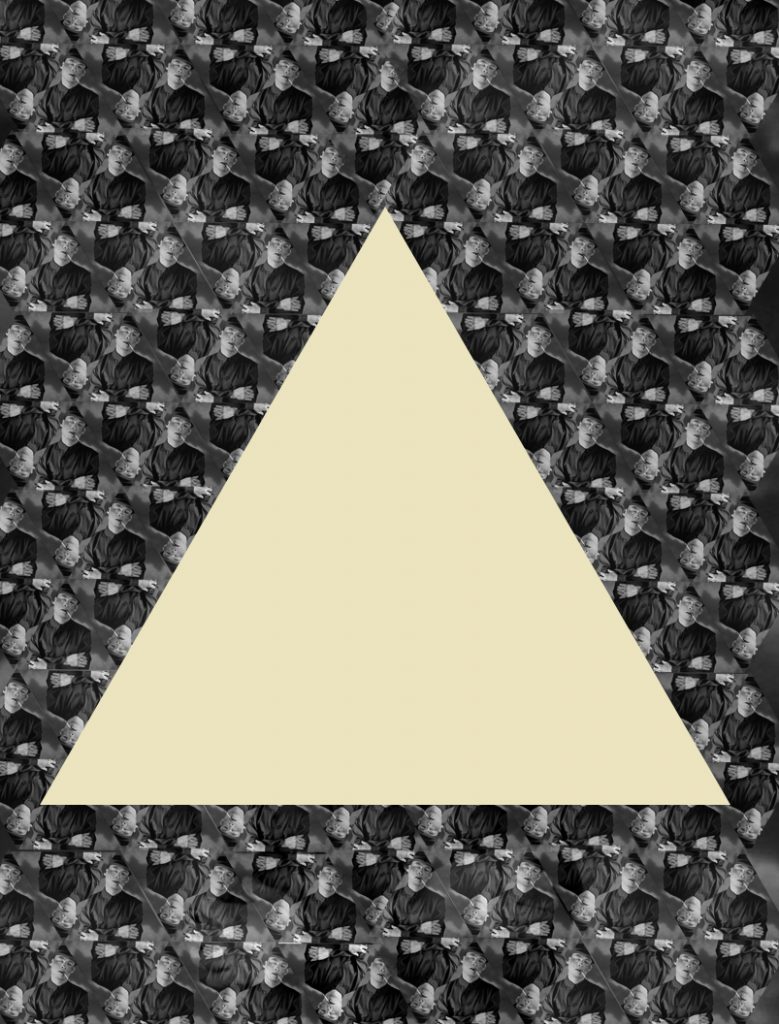 We asked Gwen to refelct on this blog 'from the vaults' in spring of 2023, after her exhibition with Salford Youth Council opened. Here are her thoughts looking back almost a year on:
This conversation resonated with me throughout my time with the Youth Council. I made this digital collage (above) while I was thinking about and processing what they said . The conversation made me think about this artwork Some Days No.3, 2002 by Wang Ningde, which I had been discussing with another group of young people. We discussed that it wasn't clear how the subject of the image felt – happy, sad, indifferent, dreamy – everyone saw something different.
Feelings and emotions can look, feel, and are experienced differently by everyone. They can be hard to describe, hard to put in to words, and there is no right or wrong, you feel how you feel. Art can help us explore and confront our emotions, and find new ways of expressing them. Feelings and emotions pass, some days you feel one thing, some days you feel another. This is how we came to the title, Some Days I Feel Triangle. How do you feel today?
More more information on Some Days I Feel Triangle, click here.