August's artwork of the month is Salford Faces by Gwilym Hughes. This artwork is currently on display in our New Adelphi Exhibition Gallery as part of Visibilities: Shaping a story of now. For this artwork of the month, Visibilities Curator Rowan Pritchard explores the work in more detail. 
In Salford Faces, four layers of giclee prints in cyan, magenta, yellow and black are superimposed to form a portrait
Gwilym Hughes found this face in a photograph at the Salford Local History Library. With an ongoing interest in anonymous faces, whose names are no longer recorded, or who might never have known they were having their photograph taken, Gwilym's work brings close attention to these people who are 'lost' in the archives.
The image is painstakingly hand-drawn using slow and intensive techniques. Rendered first as an intimate relief etching, the portrait is then enlarged and presented as a lightbox. The face, once forgotten, can no longer be overlooked when displayed at this scale, illuminated as it stares back at us.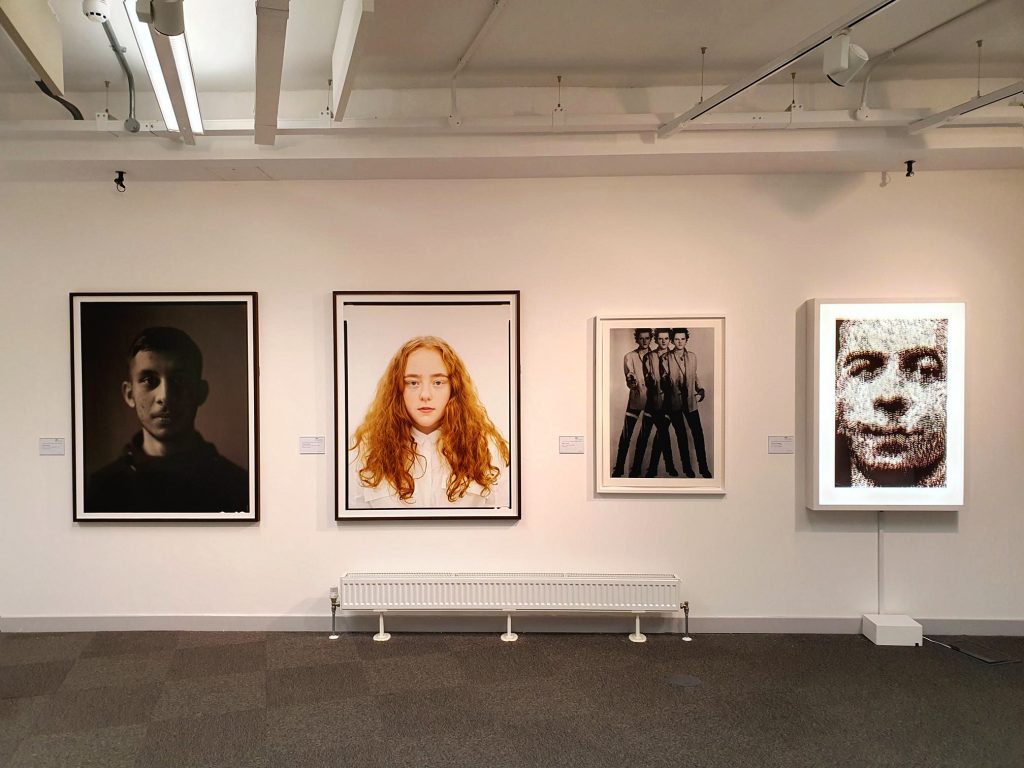 Speaking about Salford Faces, Rowan shares:
"I picked this work because it speaks directly to the ideas of preservation, questioning whose names we write down and record.
In Visibilities, I wanted to dig a little into who is represented in the University's collecting; whose stories, artworks, and achievements are we preserving as an institution? And this work relates to that directly. In the exhibition, Salford Faces is presented next to Silver Triple Pop by Gavin Turk, an artwork full of reference and reverence for men like Elvis, Andy Warhol, and Sid Vicious, whose names and images are inviolably linked to our understandings of culture – preserved and remembered. 
In contrast, Salford Faces not only begins to question why some people are remembered while others are not but creates a space for those forgotten voices to be remembered, re-enshrining them into the archives through their new representation in the University Art Collection."
---
Visibilities continues at the New Adelphi Exhibition Gallery until the end of the month, closing on the 25th of August. You can read more about the exhibition here. 
Want to hear more from Rowan about Visibilities? Join Rowan and Stephanie Fletcher for a curators tour of the exhibition next week! 1:30pm, Tuesday 15th August 👉 Click here for more information & to book your free tickets. 
---