For March, we asked Marta Strzelecka, Sustainability Engagement Officer at the University to select our artwork of the month in honour of Go Green Salford, the University's annual programme of activity promoting and celebrating sustainable work happening across campus. Go Green Saloford invites students, colleagues and local community members to get involved throughout the month in making Salford a more sustainable place to live. 
Marta has chosen Market Scene (1972) by Colin T Johnson.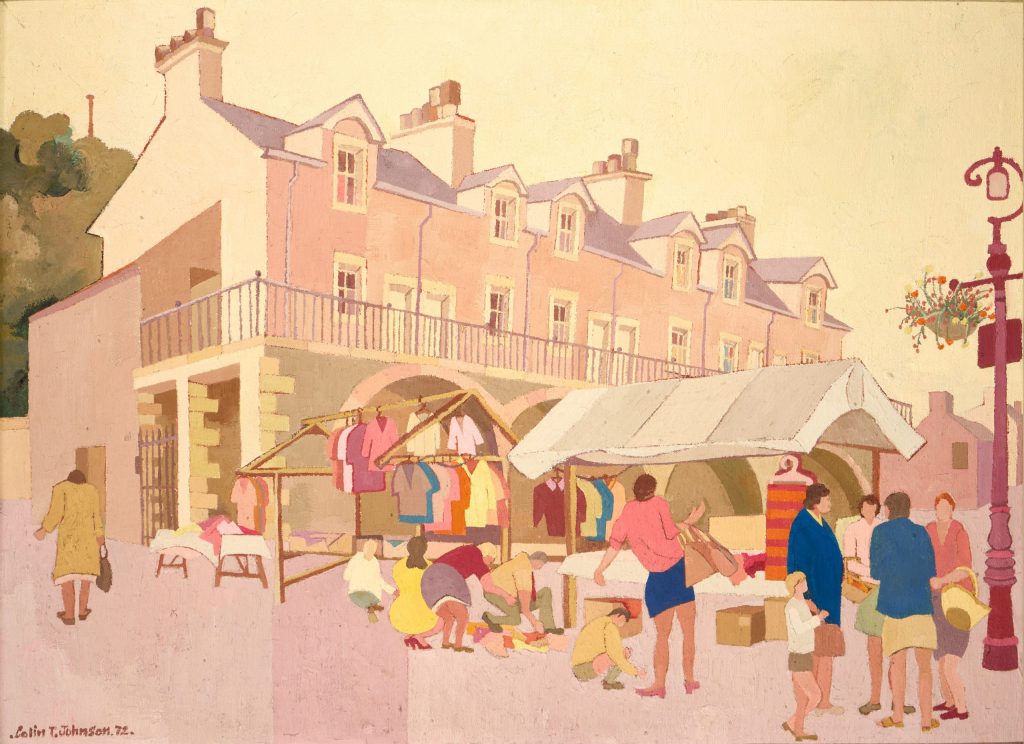 On Market Scene, Marta says: 
I selected Colin T Johnson's Market Scene because the first thing that came to my mind when I saw it was: community. I believe that connecting with other people, exchanging ideas and opinions, and providing and receiving support, is vital to achieving social and environmental sustainability, as well as our wellbeing. Recently, the power of these became evident during the Covid-19 pandemic, when community-based actions and initiatives became lifelines for many. Markets have always provided an opportunity for all of these things: a platform to come together, purchase locally made goods and produce, catch up with neighbours and friends, and spend time outdoors. I believe that empowering and supporting community-led action is essential in building a sustainable, just and inclusive society, where local citizens are at the core in the process of identifying and solving local challenges. The colours and the general feel of the painting also remind me of a Sunday morning which, from my childhood memories, is the best time for a trip to the markets, spending time with family, and preparing for the week ahead.
Go Green Salford continues until the 26th of March – with BioBlitz taking place this Friday and Saturday! Browse all the BioBlitz events and sign-up to take part here.
Marta and the Enviromental Sustainability team's work continues throughout the year and there are always ways you can get involved. Click here to find out more about.
---
Colin T Johnson (1942-2017) was a prolific artist born in Blackpool. He went on to study at Salford School of Art, 1957–9, then Manchester College of Art, 1959–60, before later moving to St. Ives. Among Johnson's many activities, he was director of the first Bolton Festival, 1979, he was artist-in-residence at Manchester Festival, 1980, and at Wigan International Jazz Festival, 1986–7. 
Read more here, on ArtUk.