Following an open call in April 2020 we are pleased to award 5 micro-commissions to artists from, living, or working in Salford, making new content and artworks in response to our Collection.
The programme, launched in the early stages of pandemic, aims to encourage artists to continue their creative practice during lockdown, and to find new narratives in our rich and varied Collection.
Selected artists include:
Mollie Balshaw, Heather Glazzard (both alumni), Katie Tomlinson, Richard Shields and Pat Flynn. Read more about the artists here.
The new works are released online during July-Aug 2020.
---
Micro-commission #1
July 2020
Katie Tomlinson

"The Wanderers (2020) is a response to Figures by a Fence (1922) by Adolphe Valette. Although Valette created this painting almost 100 years ago, the painting holds new significance when reflecting on our current climate."

Click here to view.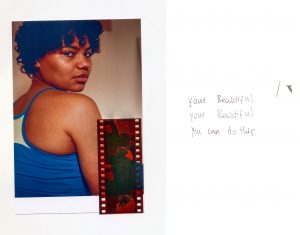 Micro-commission #2
July 2020
Heather Glazzard

Unexpected Salford is a digital zine, reflecting on personal memories since the artists' formative time studying at Salford in 2018. The artist has revisited an earlier body of their own work, the LGBT+ Letters, which was gifted to the collection last year after participating in our Graduate Scholarship scheme. 

Click here to view.