click the arrows icon in the bottom right to view fullscreen.

Seven Days in Summer "Starting" (2020)
Mollie Balshaw
digital video, 7m 42s
---
Part of our Salford SPRING Micro-commissions programme, which invites artists from the region to respond to works in our Collection. Find out more & view other works here.
---
Mollie Balshaw is a Manchester based artist and curator; graduate of the School of Arts and Media (BA Fine Art, 2019) and recent participant in our Graduate Scholarship programme (2019/2020).

Their practice explores non-binary gender, and gender fluidity, mainly through contemporary abstract painting. In this micro-commission, they have responded to notions around 'flux' and 'process' in the work of Manchester-based artist Darren Nixon.

Working from the Warrington New Art Space (a scheme ran by Castlefield Gallery), Balshaw has recorded themself painting in the studio, revealing the 'performance' behind painting: usually a personal, private and intuitive process. This video forms the beginning of a new body of work:

"…I usually record my process in a very private way for my own reference only, but I am keen to break that habit for the first time in this new piece, and demystify some of the spontaneity and nuance of painting in process.
NAS Warrington is an extremely interesting space, it was a perfect spot for this commission with its long stretches of empty walls and almost complete isolation from anybody else. Fitting for the current circumstances. I am really excited to continue working in there.

"I've really enjoyed working on this micro-commission – and it's going to develop to be a much larger project from this starting point which I'm excited about!"
Talking about their inspiration from Nixon's, work Mollie adds:
"I've been really fortunate to have some mentorship from Darren Nixon this year [as part of the Graduate Scholarship scheme], and it's been so valuable to share ideas with someone who gets where I'm coming from with painting, and understands what I'm looking to achieve. He has a lot of experience I'm keen to learn from and it was a real pleasure to create a piece in response to his work in the Collection, which is one of my favourites." 
Darren Nixon was originally commissioned by the Collection in 2015/2016 through Mark Devereux Projects Studiobook scheme. The Awkward Ambassador, a large painted sculptural installation, exists in three different forms each with multiple painted components, which can be assembled differently on each display of the work. Rather than a 'fixed' object, the work takes a shifting and restless existence – presented differently whether in storage, on display, or on external loan. These three forms or 'personas' of the work, titled The Intern (when in storage) The Mixer (when on display) and The Awkward Ambassador (when on loan) reflect on the work's changing relationship with the people and environments around it.

Nixon's recent practice continues to explore movement and process, combining his painted installations with performance and video based collaborations.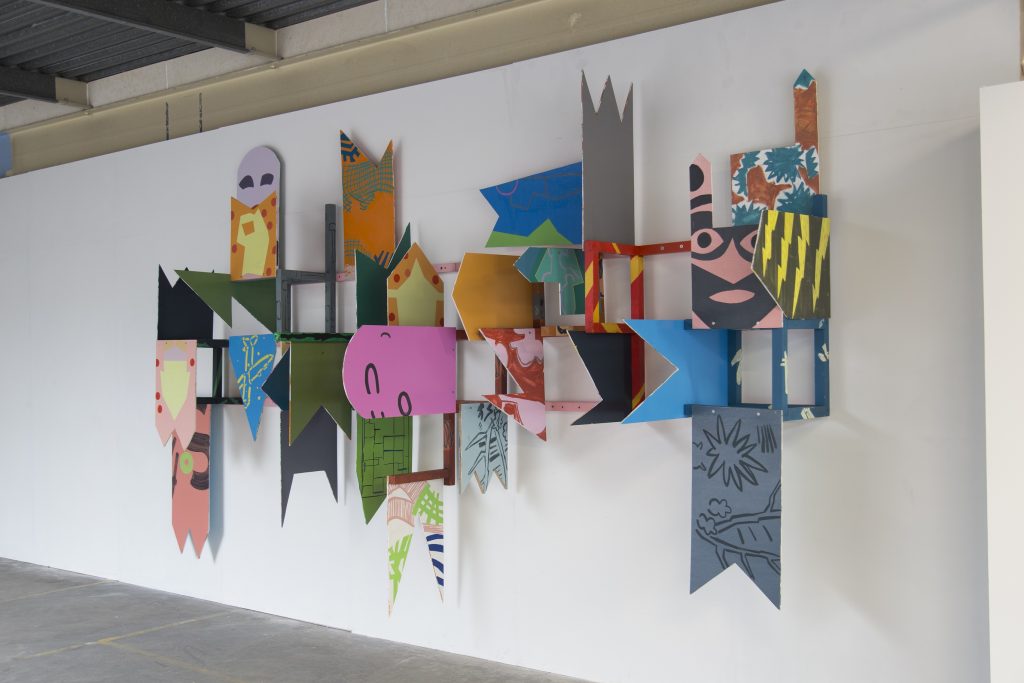 ---
Mollie Balshaw is a graduate of the School of Arts and Media (BA Fine Art, 2019) and current participant in our Graduate Scholars programme.

They explore painting with an expanded field: exploring the painting as an 'object rather than an image', and challenging the restrictive structures often associated with painting practice. Identifying as non-binary, their work attempts to be a mediator within the masculine/feminine traditions and tropes in the history of painting.
Exhibitions include the Neo Art Prize 2019 at Bolton Museum and Art Gallery and Material Concerns at PAPER Gallery. Currently they are undertaking a year of study with the School of the Damned Class of 2020.
Balshaw is also co-director of Short Supply, an artist-led curatorial collective established to generate opportunities and events for artists in the North West. Exhibitions in 2020 include Queer Contemporaries, supported by Superbia and Manchester Pride.

https://www.molliebalshaw.com/