We are pleased to once again be exhibiting work by Alumni from our Graduate Scholarship programme at The Manchester Contemporary.  Now in its tenth year, The Manchester Contemporary takes a uniquely artist-focused approach, inviting the most exciting international and UK galleries to participate. With careful selection and bold curatorial vision, The Manchester Contemporary showcases the strength of the UK's regional artists and galleries alongside key international presentations that can only be seen in Manchester.
Showcasing the practice of three intentionally disparate artists, our 2018 ALUMNI artists have been selected from the growing network of past and present University of Salford Art Collection and School of Arts and Media Graduate Scholars.
Works on display draw inspiration from outer space, Lizzie King, the immediate environment, Joe Beedles, and the internal environment, Meg Woods. The project has been curated by Amy Stevenson, who is also an alumna of the Graduate Scholarship Programme.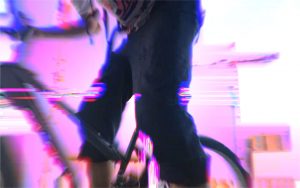 Joe Beedles
In video piece OP_dewel and the accompanying stills, Beedles considers the changing landscape and skyline in Salford and Manchester.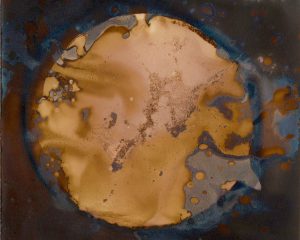 Lizzie King
Taking inspiration from scientific articles and literature King presents a collection of images which serve to both replicate and fabricate our universe.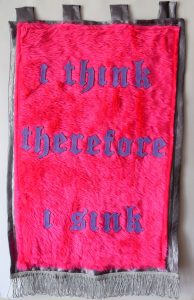 Meg Woods
Woods is a multimedia artist who produces work that is often autobiographical and centred around the theme of mental health. In the two wall hangs presented for The Manchester Contemporary, Woods reflects upon her recovery from depression and anxiety.
More details regarding the exhibiting artists can be found in this ALUMNI artists for The Manchester Contemporary 2018 document. 
Dates: Friday 12 – Sunday 14 October 2018
Opening times: VIP Preview, Friday 12 October, 5 – 9pm; Saturday 13 October 10am – 6pm; Sunday 14 October 10am – 5pm
Venue: Manchester Art Fair, Manchester Central, Windmill Street, Manchester, M2 3GX
Admission: VIP Preview, Advance: £12.00 (tickets are not available on  the door).
Weekend Tickets, Advance: £5.00 and on the Door: £6.00.  For bookings visit The Manchester Contemporary website.