Salford Rediscovered is a celebratory closing party to mark the end of the Rediscovering Salford project, a city-wide programme of events which highlight and celebrate Salford's green spaces – inspired by the launch of RHS Bridgewater gardens.  
---
From 2020 – 2022, Rediscovering Salford animated the city with new commissions, exhibitions, workshops and events. As it comes to a close, we will gather to share and celebrate with a bang across Salford Museum and Art Gallery, the University of Salford campus, and Peel Park. The event will include visual art, music, films, tours, performances and more. From an exclusive appearance of 'Madam Mort' as created by drag artist Cheddar Gorgeous, to mouth-watering street food from GRUB, and to family-friendly workshops, this is a party for anyone and everyone. Families can enjoy workshops and fun-for-all performances from 4:00-6:30 across The Crescent with receptions, live music and a growing 'party vibe' from 7:00 onwards.
After all the trials and tribulations of the last few years, we can't wait to celebrate with everyone involved in making Rediscovering Salford such a vibrant project. We do hope you can join us as we celebrate in style on the 16th.
The full programme is now available over on the Eventbrite page, with the full listings of all the afternoon's activities from curators tours to live DJs.
If you are planning on joining us on the 16th, please register for free here.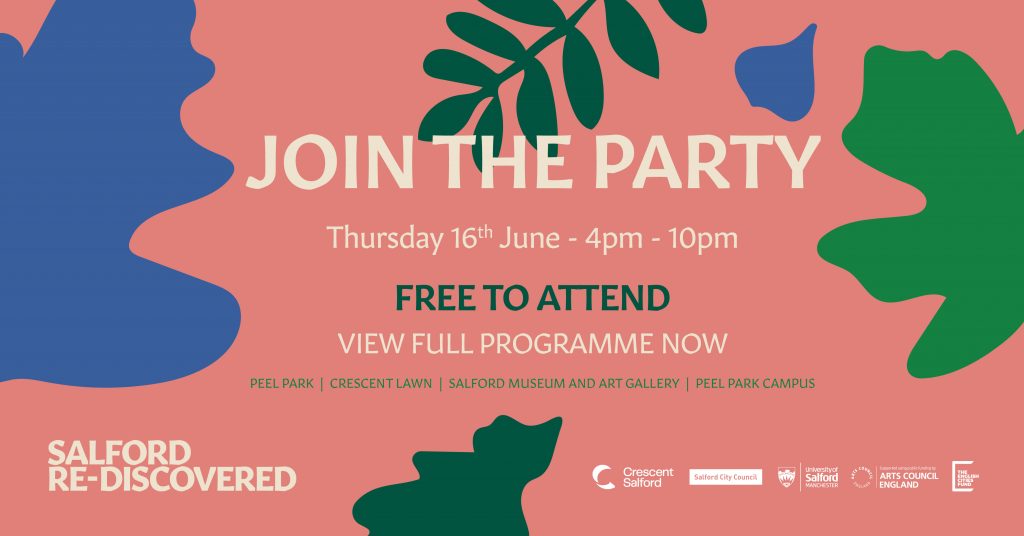 Ahead of the 16th, we still have two final events in the Rediscovering Salford programme:
Saturday 28th May – 2:00 – 2:30 pm  
You Belong Here: Curator Tour
Salford Museum & Art Gallery, Free
More information & booking, click here. 
Sunday 12th June – 2:00 – 3:00 pm  
Audio Described Tour of You Belong Here
Salford Museum & Art Gallery, Free
More information & booking, click here. 
---
Salford Rediscovered is led by the Salford Culture and Place Partnership, the University of Salford, Solid Ground, Salford City Council, Salford Museum and Art Gallery, and RHS Garden Bridgewater. Rediscovering Salford has created fantastic engagement and original commissions with Islington Mill, Paradise Works, START Creative, The Lowry and Walk the Plank. This programme is generously supported using public funding by the National Lottery through Arts Council England, as well as contributions from all the project partners.