To celebrate #NationalTreeWeek, artist Lowri Evans reflects on recent project Leaving, a participatory public event which took place under three trees in Salford during Autumn 2021.  Read more about Leaving here. All photography by MA Socially Engaged Photography graduate Joseph Lee.

---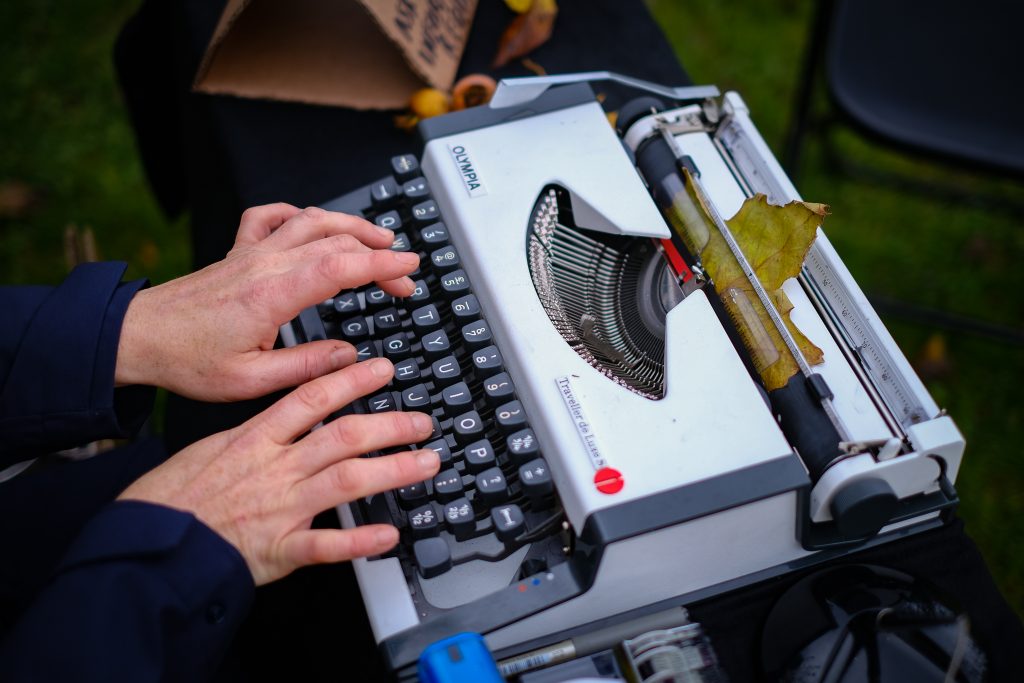 Leaving (a study of Autumn)
It went from light to dark.
It wasn't a quick service. To work out what to write on a leaf, you need to understand through careful inquiry, what exactly you want to let go of,
In a rec ground, under a beech tree, on a dry day, with rain at the end,
In an orchard, under a quince tree, on a dry day, with damp mist,
On a uni campus, under a weeping willow tree, with freezing feet.
The trees rustled and waved, the leaves danced and fell, there were always a few leaves in my hair. There were ladybirds in my typewriter. A dog.
Eighteen conversations,
I liked the connections and turning points.
It was hard not to think about autumn, with the orange everywhere, the change in the air, as I heard about turning points.
There was quietness too, holy somehow. Some time, in the time. The shhhh of the trees.
I liked the way people talked about the trees, how fond they were of them, how much they walked by or watched them, what they got out of them.
I liked how happy the people were to get a leaf. I hope they liked being listened to.

Lowri Evans
December 2021