A unique 18-month opportunity to make and exhibit new work in response to the climate crisis, net zero research, and the future of housing at the world-leading Energy House 2.0 facilities in Salford. A selection of new work made will also be acquired by the University of Salford Art Collection.
University of Salford Art Collection is now inviting applications for the second residency in collaboration with Castlefield Gallery, Manchester. This residency is open to all artists working in the field of visual arts and will run from July 2023 until December 2024.
The first residency, in collaboration with Open Eye Gallery, Liverpool was open to photography based artists and was awarded to Mishka Henner, taking place from Jan 2023 to June 2024.
About the residency:
For the second Energy House residency with Castlefield Gallery we are inviting expressions of interest from visual artists, based in the North of England, who work in any medium except photography. It is anticipated that the successful artist will have the opportunity to work with scientists, technicians and other specialist staff to make new work which explores positive solutions to the climate crisis net zero research and future of housing.
We are open to a range of practices and approaches, and will work closely with the selected artist to develop the project over 18 months. We are looking for creative / innovative responses and a demonstratable interest in/commitment to the residency themes.
About Energy House 2.0:
Launched in February 2022, Energy House 2.0 is a unique research facility, with two environmental chambers each able to accommodate two full sized detached houses. The research team can recreate a variety of environmental conditions – from extreme temperatures (-20˚C to +40˚C) to simulate wind, rain, snow, and solar radiation – in order to test out the latest innovations in the built environment. The £16m facility, part-funded by the European Research Development Fund (ERDF), is the largest facility of its type and plays a key role in accelerating progress towards low carbon and net zero housing design building upon the success of the original Energy House Laboratory which opened in 2012.
The residency will include access to the Energy House 2.0 facilities and the following live research projects:
EHome 2 a research project run by Saint-Gobain UK and Ireland, in partnership with Barratt Developments, to create a blueprint for future homes.
Future Home an experimental eco house built by Bellway a housebuilding company.
This residency builds on our pilot residency Are You Living Comfortably? by McCoy Wynne which was presented in Liverpool in Jan 2022, and in New Adelphi Exhibition Gallery in Oct-Dec 2022 as part of the Salford LOOK 22 Hub.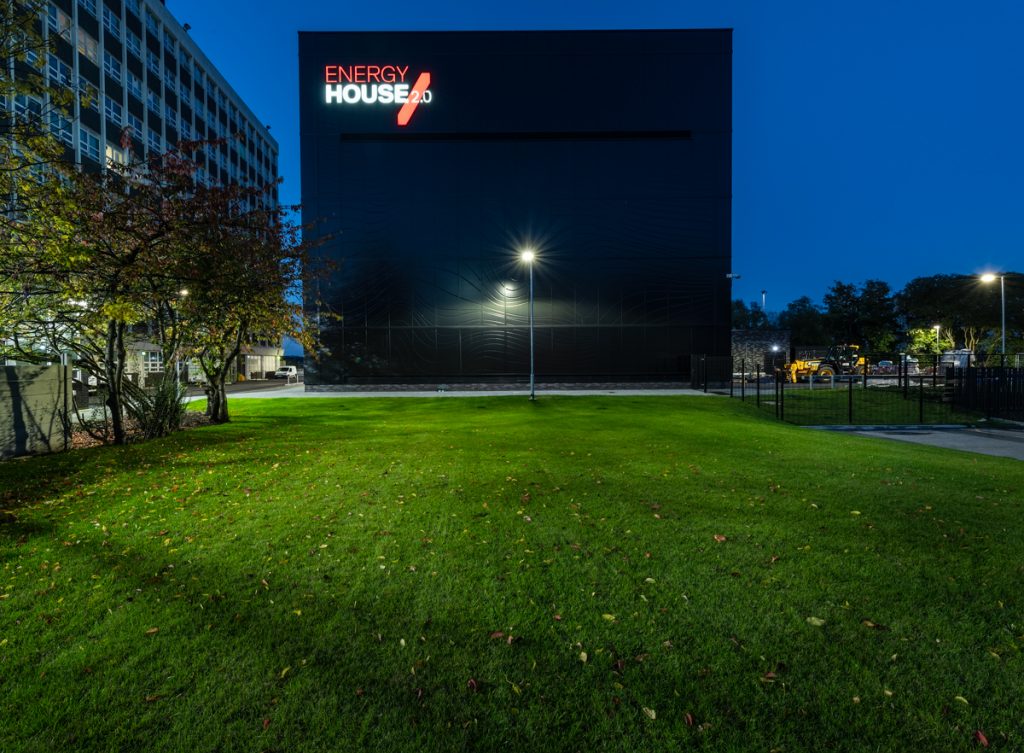 Expectations/Outputs:
There will be opportunities to present work, or work in progress, as follows:
Open Eye Gallery: LOOK Photo Biennial – Labs – Liverpool Jan/Feb 2024
Open Eye Gallery: LOOK Photo Biennial – venue TBC – summer 2024
Castlefield Gallery, Manchester – spring 2025
New Adelphi Exhibition Gallery, Salford – TBC
Budget:
There is an artist fee of £20,000 per residency, to include VAT (if payable) all expenses, materials, production of new work and exhibition and acquisition. Payment is made on a freelance / self-employed basis.
There is a modest additional budget for engagement and communication across the project.
It is anticipated that each residency will last around 18 months.
We will agree an appropriate schedule of work with the selected artists, however the fee is based on an expectation of averaging about one day a week.
Resources:
The selected artist will be supported by the Art Collection team and curatorial staff from both Castlefield Gallery and Open Eye Gallery.
They will also have access to other academic staff expertise and facilities across the University – from the Maker Space to the Library.
We will encourage the artist to connect with the first artist in residence, Mishka Henner.
Accessibility:
Please let us know if you have any access requirements that we can help you with during the application process. We will work with the selected artist to support accessibility requirements or reasonable adjustments during the project. Access needs will be discussed after interview stage.
To express interest, please supply:

– A short statement explaining your interest in this opportunity and what you might like
to achieve (no more than 500 words)
– Your CV/ link to your biography
– Up to four images that might support your application
Please send your application in standard file formats (e.g Word, PDF and JPEG). Please do not send very large files or Wetransfer/Dropbox/etc as these may not reach our inbox.
CLOSING DATE: Monday 17th April, 9am
EXTENDED CLOSING DATE: Monday 24th April, 9am
Interviews:
will be held on Thursday 27th April in person at the University of Salford. We will endeavour to let all applicants know whether or not they have been shortlisted by Friday 21st April.
In line with the extended closing date, interviews will now be held on Wednesday 17th May in person at the University of Salford. We will endeavour to let all applicants know whether or not they have been shortlisted by Wednesday 10th May.
Please send your application with the subject line "Energy 2.0 Residency Application" to: r.t.pritchard(at)salford.ac.uk by 9am on Monday 24th April. 
For further information please contact: Rowan Pritchard as above.
---

This project has been made possible through funding from the Friends of Energy House 2.0 community: https://energyhouse2.salford.ac.uk/friends-of-energy-house-2-0/