As a University deeply rooted in the North of England, specifically Salford and Greater Manchester, and with our own vibrant School of Arts and Media it is important that our collection reflects the wealth of artistic practice in our city and the North West of England region. There is no other museum in the area, to our knowledge, collecting work by artists from the North of England in a significant way.
Many of the established artists in the region already have a relationship to the University – through studying or teaching here at some point. We also want to support our students and graduates.
Much of the work collected in this area of our programme is also created in partnership ensuring that we engage with artists and audiences locally.
Artists in the From the North strand of the Collection include: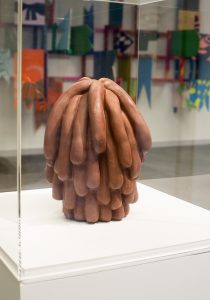 Willow Rowlands, A Way of Organising a Pig, 2015. Photograph by Steve Iles.
Further artists from this Collection strand that will be added to this page include: Ruth Barker, Joey Collins, Craig Easton, Maurice Carlin, Pat Flynn, Louise Giovanelli, Rachel Goodyear, Kip Gresham, Sarah Hardacre, Adrian Henri, Gwilym Hughes, Walter Kershaw, Lizzie King and Craig Tattersall, L.S Lowry, Darren Nixon, Harold Riley, Adam Heiss and Martene Rourke, Liam Spencer and Meg Woods.