In the first of a new series highlighting the work of artists in our collection, our Digital Content and Engagement Officer, Alistair Small, pays a visit to the South Manchester studio of Cecile Elstein.
It's the 31st of January when I visit Cecile Elstein's home and studio, in Didsbury. On her front lawn, the first crocuses of the year are popping their heads up – 'the first signs of Spring' – Elstein says. Elstein was brought up in Cape Town, South Africa. She tells me that one of her childhood creative pursuits was making mud pies, perhaps an early indication of her practice and training as a sculptor. She left South Africa in 1961 with a young family, first to London – where she met and studied under the surrealist Painter-Potter Catherine Yarrow – then moving to Southampton, where she studied Printmaking and Sculpture at West Surrey College, before putting down roots in Manchester in 1977, where she lives and works to this day.
One of the first things I notice about Cecile's house is that it is in many ways an extension of her practice – she tells me that some of the first works she made in Manchester were made to decorate small pockets of space around the house. In her kitchen there's a tall, thin print series occupying an otherwise underlooked section of wall, created by etching into plaster blocks. Cecile's home is accustomed to visitors and art viewers – she's opened up her collection to the annual Didsbury Art Trail in recent years, though Coronavirus has curtailed this since 2019. Her studio is in her garden too, though on this January day the wind is too biting to venture outside.
Whilst primarily known for her prints, Elstein's practice has encompassed sculpture, land art, video and even inflatables – more on that later. One of her first forays into sculpture and environmental art came through a commission at Florence Trealoar School, for children with additional needs. She created an explorable sculpture in Scots Pine, working with them to create an inclusive and accessible shelter in the school garden – 'a place for them to get away' from the school. This work was an initial engagement with environmental art and accessible design, which would come to feature more prominently in her work. She got in touch with the school recently to see how the sculpture was holding up, only to discover it had been removed as a result of development of the school grounds into flats. This project would peak an interest in accessibility of design and the processes of working with heavy materials and with the outdoor environment, experiences which would inform later works, including 'Tangents', discusses below. It also created images and motifs seen in later prints works, generating creative sparks and ideas that would run through her work – we can observe similarities in form between the play sculpture and those seen in her later print series 'Sisyphus Suite'. This sense of one work informing another is central to Elstein's creative process, and we can see traces of one work appear in another – 'The needs of one project often generated ideas for others', she says.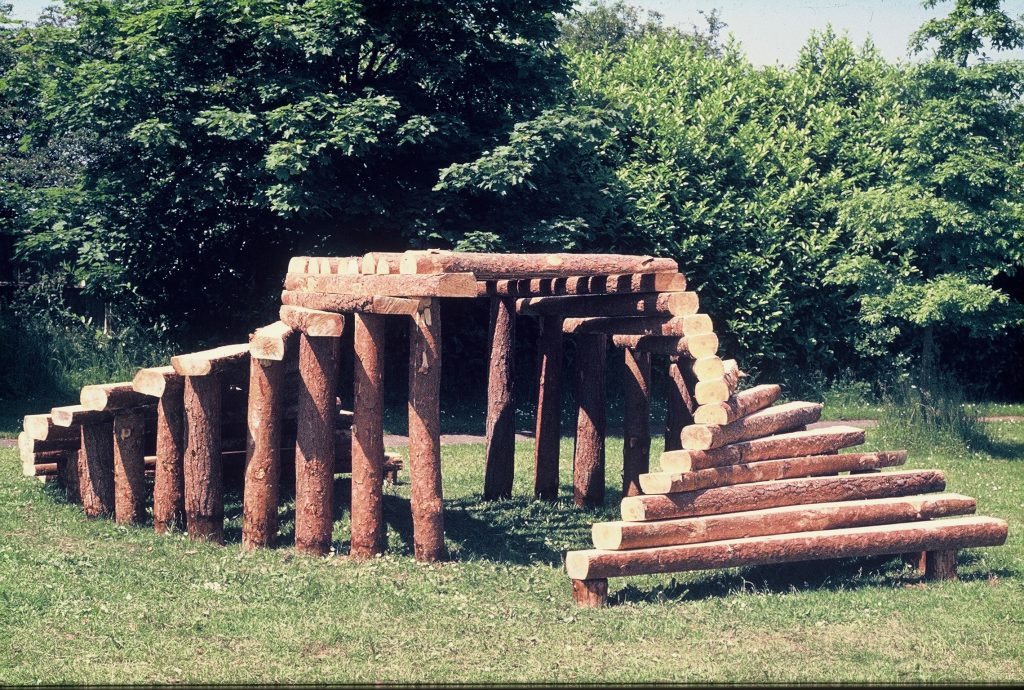 I'd come across Elstein's work through the University's collection of prints linked to the Manchester Print Workshop, which was run out of the University during the 1980s. The collection holds an edition of 'A Letter from Mrs Gould', produced in response to challenging socioeconomic conditions in Manchester and across the UK in the early 1980s. In 1981 Elstein received an unsolicited note signed by an S.Gould, reading:
"Woman needs work urgently – cleaning & domestic work – housekeeping – gardening – handywoman – will do work of any description – hours to suit you – at a rate you can afford…."
Using found papers and materials, Elstein attempted to piece together the circumstances of Gould's precarious situation: The twenty screen-printed layers include newspaper clippings from the time, netting from a bag of oranges (with a price tag of 50p – showing rising food prices) as well as the envelope in which the letter was received. Elstein intended the final image as a reminder of the dignity, grace and tenacity of "all women involved in real communication". Both the letter and print make up the collection object.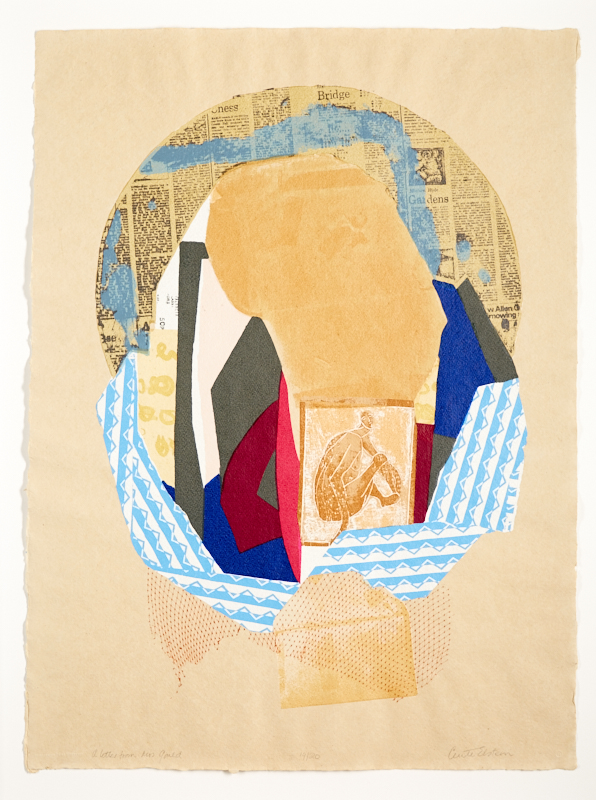 In the 1980s an arts council funded project transformed her designs into pneumatic artworks which toured internationally as the UK entry for the Singapore Arts Festival, fabricated in collaboration with Terry Scales at Manchester Art and Technology Workshop. She tells me they went missing in Singapore and she hasn't seen the work since. Titled 'Mandarah' it contained three panels of life size figures inserted into the structure, surrounded by sun burst designs depicting Morning, Noon and Evening – a print of 'Noon' was then shown as part of the 1986 Bradford Print Biennale. The audience could walk through this and view the colour as the natural light enveloped the structure.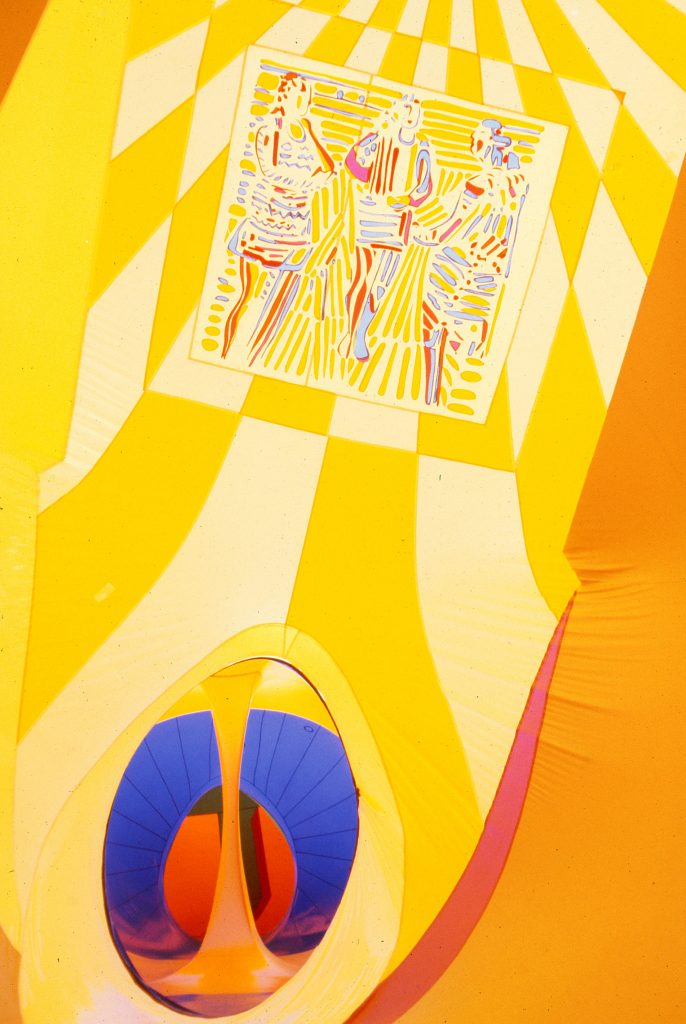 From 1993-1996, Elstein undertook an MA in Art as Environment at Manchester Metropolitan University (now Manchester School of Art) enriching an interest in landscape and environment as both subject and medium for her practice. Her site-specific 1997 sculpture 'Tangents or a Load of Rope', at Wimpole Hall Gardens in Cambridgeshire, connected this interest with her research into accessible environments and empathy in design, develop through her MA research. The work, made up of ropes, tensioned wires and metal rings structured and planted into the ground, was an interactive installation designed to become 'a meeting place and a focus for looking, listening and conversation' – grass would continue to grow through the sculpture and people would be encouraged to explore it. Elstein says, "I did not work with the manipulation of mass, which traditionally denotes permanence and certainty. Instead, I considered open form, demarcated space, displayed volumes, nodal points and changing perspectives." The work is documented in the video 'Tangents: A Mindscape in a Landscape', made by Maureen Kendal; visitors play amongst the rope, some climbing around or plaiting the ropes, others finding quiet contemplation. The sculpture is presented in contrast to the then new development of Castlefield, Manchester.
Elstein's advocacy for accessibility in design and creativity was motivated by personal experience – in 1985 her son Paul was diagnosed with Multiple Sclerosis "I was witness to the supreme creativity with which he adapted to physical disability from 1985 until his death in 1998." Paul's story is inspirational for Cecile's wider practice, with those who supported him honoured through her portrait series, 'Paul's People'. I'm struck by how generous Cecile is in her practice, and the deeply personal nature of her work. She tells me her work simply reflects her life experiences, her practice is a series of observations of what's happening around her and that the reason for making a particular work at a particular may not truly be known until some time later, with works taking on new meanings in new contexts. For her, the creative process is about a capturing the essence of a moment, whether through observation or introspection.
Such an example is the Sisyphus Suite (1978-80), a visualisation of Albert Camus' Myth of Sisyphus in 8 prints. Cecile tells me she initially made these works in a period of upheaval, after arriving in Manchester having relocated several times. For her they were a means to engage the creative process during this period of transition. In the first print, she writes: 'Clarity arises from the knowledge of that moment when a relationship with something other than that which might be perceived in the outer world, is realised, the moment when the inner world might manifest itself through the medium of ink and paper.' We discuss how relevant Camus' Sisyphus became for many during the Covid-19 pandemic, and how she found herself returning to that message.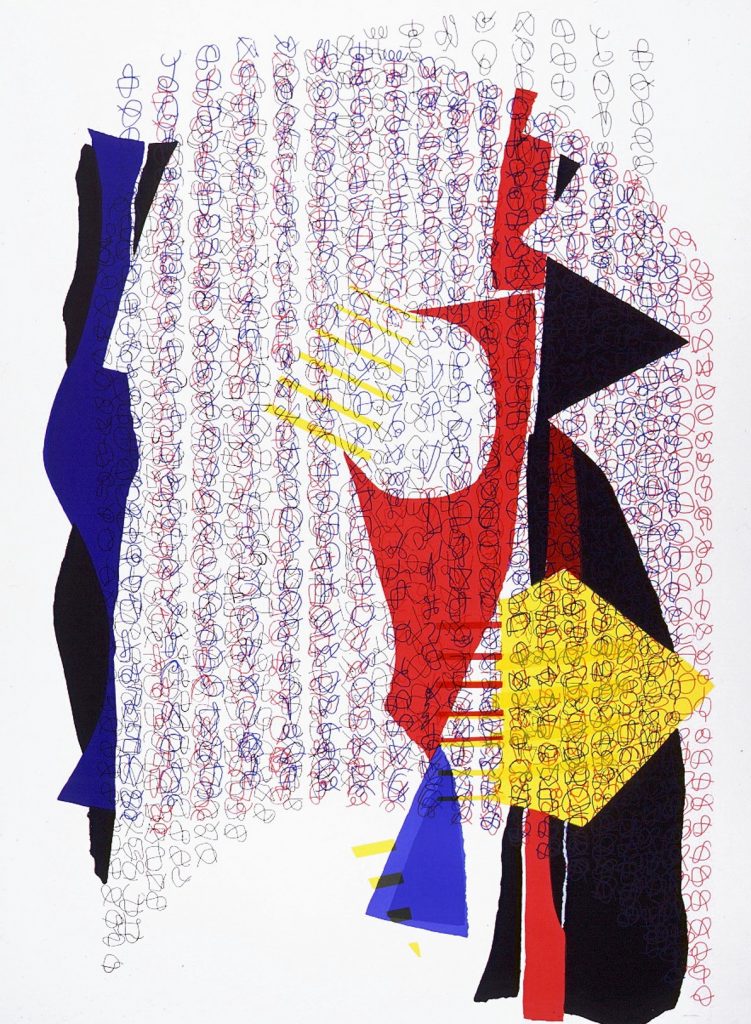 Cecile Elstein's practice merges the personal with the universal and taps into the essence of why artists produce work. For her, it's an instinctive act to capture and document, and then revisit these moments in new contexts and from new perspectives. In Cecile's own words, 'sometimes the true meaning of a work doesn't become clear until much, much later' …
Cecile Elstein is a printmaker, sculptor and environmental artist based in Didsbury South Manchester.
https://www.cecileelstein.com/
In addition to Cecile's work The University of Salford Art Collection holds works by a number of artists associated with the Manchester Print Workshop, founded by Kip Gresham in Manchester in 1975, moving to the University of Salford after a few years – where it ran until the mid 1980s.