The University of Salford Art Collection holds an archive of artists prints from the 'Manchester Print Workshop' – founded by Master Printmaker Kip Gresham. The Workshop started in Manchester in 1975 and after a few years moved to the University of Salford, where it ran until the mid 1980s. The prints – including screenprints, lithography and other techniques – exemplify the vibrant and experimental aesthetic of the era. We're now undertaking some research to find out more about the activities of the Workshop and the artists who worked there, and would like to invite any alumni or members of the local community who have memories from this time to share them with us.

The artists represented in our collection include: Alan Whitehead, Cecile Elstein, Kip Gresham, Matthew Hilton, Michael Green, Pat Eason, Paul Ritchie, Peta Cole, Richard Riley
We're particularly interested in hearing more about these artists, but welcome all recollections about the Workshop and any of its members, from alumni who may have also made prints there or been taught by members.

If you can help us to find out more, please email researcher Tracy Ireland at artcollection@salford.ac.uk, including "Manchester Print Workshop" in your email subject. (Please avoid sending any large files or attachments with your email, as this may get filtered out).
Click here to find out more about our Print Collection.


---
Examples from the Collection: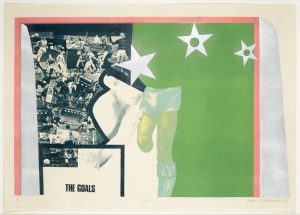 Screenprint 'Shoot' was made by artist Alan Whitehead at the workshop in 1969. It combines collaged football scenes with abstract printed elements, framed in a football 'goal' composition. We know that Alan unfortunately passed away in the 1980s, and have been unable to trace his estate. Do you remember Alan & his work?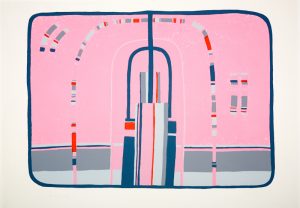 This silkscreen print (Untitled) was made by Pat Eason in 1980, and acquired into our permanent collection (#298a). The work exemplifies the vibrant and playful aesthetic of the time. Do you remember Pat, their work, or any of the other artists connected to the Manchester Print Workshop?
Images: Courtesy the artist and Museum Photography North West. Every effort has been made to trace copyright holders and to obtain their permission for the use of copyright material.